Buy Properties in Bulk!!!
Buy packages that cash flow from day one!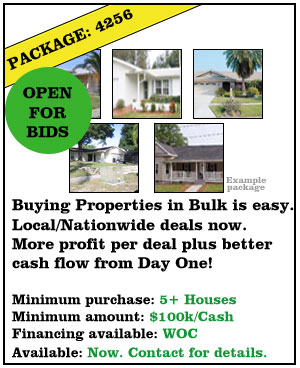 The big money in real estate investing is the long term value of cash flowing properties.

Some bulk packages can be in groups as little as 5 properties at a time and can be acquired for around $100k per package.

We are real estate investors who buy and sell our bulk property packages. Contact us today for more information about the opportunities in bulk purchases.

If you are new to the idea of buying real estate in bulk, it is really no different than other types of goods and services you buy in bulk. Buying in bulk brings the overall cost per unit down to incredible savings.




Bulk purchases can typically yield these immediate benefits:
Lower overall cost per unit. This means a much higher profit margin no matter what your overall exit strategy becomes.


Higher cash flow from day one. Some packages already have long term tenants in place. Some rents are even paid by special government programs which ensure your checks are on time every time.


Build your portfolio faster than individual acquisitions that can take months to complete. Many packages are already segmented and ready to close within weeks and have guaranteed clear and marketable title.


So get on our VIP Buyer List so we can start working with you immediately! Fill in the form to the right and we'll be in touch immediately!